Six former Australian prime ministers unite to condemn Hamas
Bipartisan support for Israel as former leaders issue joint statement.
By Rebel News
October 29, 2023
News
In a rare display of unity, six former Australian prime ministers, excluding Paul Keating, have issued a joint statement condemning the recent Hamas attack on Israel.
The leaders, including Kevin Rudd, John Howard, Julia Gillard, Tony Abbott, Malcolm Turnbull, and Scott Morrison, voiced their concern about the escalating crisis in the Middle East, urging Australians to stand together during these turbulent times.
"We stand in solidarity with Jewish Australians at this time," the statement read, denouncing Hamas's brutal attack on Israeli families as comparable to the horrors of ISIS.
The former leaders called for the unconditional release of hostages taken by Hamas while expressing support for the Australian Palestinian community.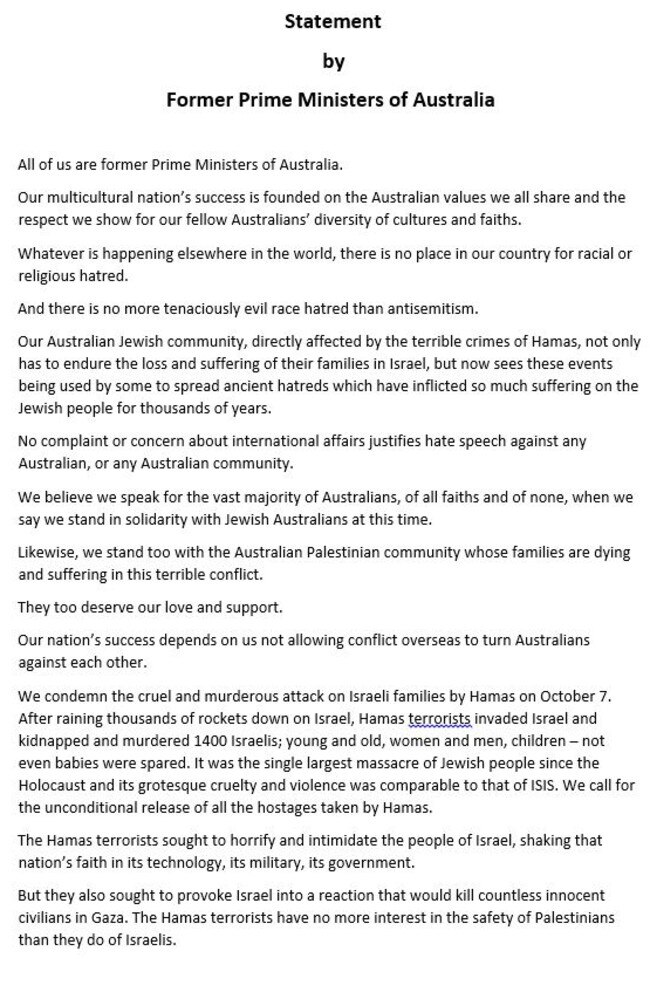 The statement also urged Israel to protect civilian lives, emphasising the importance of humanitarian access for essential supplies to reach innocent Palestinians.
The leaders reiterated their enduring support for a two-state solution, advocating for a lasting peace between Israelis and Palestinians.
The Zionist Federation of Australia welcomed the statement, pointing to its significance in showcasing Australia's bipartisan support for Israel.
President Jeremy Leibler praised the former prime ministers' moral leadership, highlighting their condemnation of Hamas as a testament to basic morality and values that transcend political boundaries.
Spread the Word!
---
Don't Get Censored
Big Tech is censoring us. Sign up so we can always stay in touch.
Don't Get Censored
Big Tech is censoring us. Sign up so we can always stay in touch.